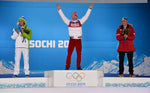 READY TO SEIZE THE DAY – FULL OF ENERGY
I worked with Matt at the beginning of the 2014 Olympic season.
He helped me with my nutrition and how I can use that for better sleep. Before we started working together I never ever slept more than 4-5 hours a night during the winter competition season. My performance was taking a hit and so was my mental state.
Not long after I started working with Matt I began getting more sleep and after 6 months I was sleeping a full 8 hours a night no matter what I had ahead of me the next day. He definitely got me on the right track.