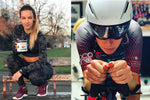 A question I get asked a lot is "Is Amino Man just for men?!"
The answer is a simple no! Amino Man is for everyone and I have many very happy and successful clients who have used my range of vitamins and supplements over the years.

Just recently, some of these women have achieved remarkable goals which I'd like to highlight below:
Jodie Taylor
Currently part of the England team taking the France World Cup by storm. Don't miss their next knock-out match on Sunday at 4.30pm
Amino Man Favourite: R5 Aminos
Amy Kilpin
Professional triathlete
Finished 2nd at the Ironman 70.3 Luxembourg last week, smashing her PB!
Amino Man Favourite: Amber Aminos
Phoebe Robinson Galvin
Actress and Martial Artist, Stunt Performer, Ju Jitsu expert, dance, rally car driver…the list goes on
Amino Man Favourite: Immune Power
And not forgetting the incredible Mel Nichols who I helped with nutrition. She's has just completed a punishing challenge to be the fastest female to hand-cycle from Land's End to John O' Groats! 
FLASH SALE! 💥
To celebrate our female clients and supporters, we're making it even easier to get started with Amino Man. 
This weekend we're offering 25% off the entire range (now til Midnight on Monday 24th June). Just enter code JUNE25 at the checkout (not valid on merchandise, bundles or currently discounted products).
Cheers
Matt