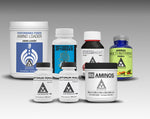 With so many different supplements in the Aminoman range it can be hard to know what to take for a particular issue you're facing.  So, I thought i'd re-introduce you to 7 of my best selling supplements and tell you exactly what the ingredients are good for. 
Each product has genuine reviews from genuine customers on the website so please take a moment to read them and see how they've helped others.  There's also more technical information on the ingredients should you want to know more. 
As always i'm here to help with any questions you may have. Just email me at matt@aminoman.com
BEST FOR SLEEP - R5 AMINOS
An Aminoman best seller for over 10 years, users report increased recovery, decreased soreness and a deeper more restful sleep.
A mix of calming amino acids aimed at optimising normal growth hormone release. A zinc and magnesium blend alongside antioxidant enzyme supporting minerals and good doses of b-vitamins round this off nicely.
BEST FOR MALE SEX DRIVE - OPTIMUM MALE
Natural support for men. Users report increased drive in the gym and the bedroom. Made with higher potency vitamins, minerals and herbal blends.
Works well with Vinitro for additional drive when you need an extra boost.
BEST FOR FEMALE HORMONE BALANCE - OPTIMUM FEMALE
A natural blend of herbs, minerals and vitamins aimed at female hormone balancing. May restore and maintain stamina, energy, stronger hair and softer skin. 
BEST FOR FAT LOSS - METABOLIC OPTIMISER
Packed with multiple action herbs including quercetin, green tea extract, boswellia, curcumin, milk thistle, berberine and antioxidants. 
Individually the ingredients have been shown to support endurance based activities, enhance fat burning and reduce inflammation and pain.
BEST FOR GENERAL HEALTH - MULTI NUTRIENT
Aminoman's advanced multi nutrient system is way more than a standard multi vitamin. Ingredients enhance and complement anti-inflammatory protocols and ensure all micronutrients are covered. 
Best for overall health support.
BEST FOR MUSCLE BOOSTING - POWER LOADER
Enhance your performance quickly. As long as you are training hard this will support your efforts and increase results.  Power and lactate buffering as well as focus and blood flow – it's all in there.
This is one of the most comprehensive pre-intra and post workout loaders available.
BEST FOR MOTIVATION - ADAPTACAT LIQUID ADAPTOGENS
A liquid blend of adaptogenic herbs, designed for restoring adrenal function, increasing endurance and reducing stress. 
There are only natural ingredients in this product (Rhodiola Rosea, Schizandra Berry, Astragulus Root, Siberian Ginseng, Liquorice, Fennel & Citrus) and each one delivers a number of powerful benefits.