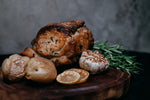 Sunday's a great day for cooking a roast. While this is cooking you can prepare a Bolognese. After lunch you can make a stock which can be the base for a vegetable heavy risotto. 
Learn more about carb cycling and the performance and power plates here.
It's a detailed guide to cooking for the week. There's tons of information in there and one of my favourite dressings for Ceasar salad. If you make it let me know - I think it's absolutely delicious.