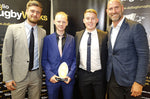 I've known Lawrence Dallaglio for almost 20 years now.
 
He was, as you know, an iconic and powerful rugby player leading both England and Wasps to epic success. Today, he continues to lead the way in his corporate and charitable work having set up Dallaglio RugbyWorks in 2009. 
 
Dallaglio RugbyWorks uses the values of rugby within a skills development programme working intensively within the UK's education system. Working with teenagers in Alternative Provision schools, they develop a bespoke path for each young person to equip them to get a job when they move on from education, build a career and secure long-term stability.
 
Each year on average 2,720 young people between the ages of 14-16 are excluded from mainstream education in the UK. That's 14 exclusions every school day.  Excluded children are some of the most vulnerable and hardest to reach people in our society. They are twice as likely to be in the care of the state, four times more likely to have grown up in poverty, seven times more likely to have a special educational need and ten times more likely to suffer recognised mental health problems. Most have no hope of getting out of a system they fell in often through no fault of their own. 

Amino Man is proud to announce a partnership with Dallaglio RugbyWorks and the Dallaglio Cycle Slam 2020. You can help us to support them every time you purchase Amino Man supplements. Just use this link at the till and we commit to donating 10% of all sales back to the charity. In addition, you can also get 20% off your order when you use the special discount code LOL20 = 20% off.
 
Some say it's about giving young people a second chance, but for many it's often their first chance. Amino Man is committed to doing what we can to help these young people achieve brighter futures.
Amino Man is also a member of % for the Planet – whereby we give back 1% of all profits to charities focussed on renewable earth-based activities.
 
Some of you will know the R5 formula was born from the pre rugby world cup training block and early research we were involved with in with amino acids and tissue building effects. 
 
Lawrence would have been taking 12-16 different pots of Aminos with a 2 page letter explaining the amounts and scoops to use plus to be fair it did taste horrible. This was what originally inspired me to get into the amino game – rebuilding the enhancing the formula and making it taste delicious. As well as being the number 1 selling sleep and recovery formula in the Amino Man range.
 
These formulas and nutrition support were part of the reason the Kiwis called us 'White Orcs' when we went down there and dominated every game. Sadly, those days are behind us now – but fortunately you can still benefit from the formulas. 
 
When combined with Power Loader you can expect titanic effects. As long as your diet and training are on point of course.
 
Yours in training – supporting iconic figures and of course our less fortunate youth back to full strength and honour.
Best, Matt