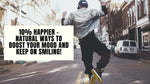 Hey Team Amino Men and Women. The autumn is upon us. 
This time of year I always remind myself and clients about immune-boosting habits and protocols. These are as important as ever in these tricky times. 
I also have suffered from SAD over the years, so I really try and pop a few habits in place to prevent this.  
Here are my top tips:
Keeping happy is a No.1 Priority! I love using light boxes when it starts getting really dark (when clocks go back) I also start on Vitamin D right about now. 
Omegas are an ongoing daily for me, 2 for maintenance and up to 6 if I'm injured or severely inflamed. 
You'll see 5HTP in a few products for serotonin, R5 Aminos, Amber Aminos - Dark chocolate has proven mood-boosting effects, a homemade hot chocolate before morning workouts can be a real blood flow booster on a cold day. 
Sleep quality is essential to mood state. A heavy blanket is a clinically proven and also really snug way for deep, restorative, restful sleep = bliss. 
Focus Sustain gives the neural system a welcome morning boost too with several brain supporting herbs, b-vitamins and mitochondrial helpers all in there. Keep an eye out for our new booster packs coming soon, these will contain Co Q 10, PQQ, b-vitamins and huperzine A...snowdrop extract....more to follow soon. 
Be sure to refresh your memories on SAD and immune strategies. Links below:
Seasonal Affective Disorder (SAD)