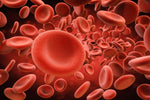 DIGGING DEEPER – BLOODS
Bloods. You can see here from a purposefully anomonised sheet that players are typically insufficient in a number of areas.

Red blood cell has a 120 day life cycle. So, testing this gives a window of nourishment assessment which is 2-3 months in duration.

Good things to look at include;

Vitamin D
Omega 3/6 ratio
RBC, mg, zn, cu, mn, se, cr, se
Active B12 and RBC folate

This gives a pretty rounded assessment of overall nutrient status. Normally this will be part of a full biochemistry profile, including things like cholesterol, haemoglobin, full iron profile, fasting insulin, HBA1C and glucose so you can get an idea of diabetes risk and blood sugar control.

As part of a consultation package I can guide you through and organise these tests for you.
IMPORTANCE OF BALANCED MINERAL STATUS

You can see above the simple format to feedback results to the athlete. Even a marginal drop in ferritin and haemoglobin can drastically decrease an athletes high end performances.

Ferritin and haemoglobin importance can be seen in the slide below where an elite middle distance runner (guess who) improved their performances on the back of organic liver and spinach based breakfasts.

If one of your players is ferritin deficient the chance of anemia or low oxygen delivery increases. Bloods and testing help you fix this.

The role of flavonoids from plants in regulating the haemoglobin molecule is gathering traction. Making the combination of higher iron rich foods, alongside plenty of flavonoid rich vegetables increasingly important for high performance. Yep. Eat your greens.

HOW DO WE DECIDE OPTIMAL LEVELS FOR ATHLETES?

My take on this is to achieve mid range + 20%. This way when athletes go on holiday. Forget to eat well and take their supplements they will drift down but not to suboptimal levels.

One of the reasons to influence these parameters is to moderate the inflammatory response.

Chronic levels of inflammation inhibit protein synthesis and rebuilding and repair of muscle tissue.

So, we can look to build a picture of players according to an inflammatory index. We can cross reference other inflammation markers. With nutrient status. Two of the best ways to decrease inflammation include increasing fish oil intake alongside cur cumin.
IMPORTANCE OF OMEGA 3 IN HUMAN PERFORMANCE

Recently I attended an anti-aging seminar. I would say without exaggerating that almost every talk mentioned the importance of omega 3, inflammation, bioflavonoids in ageing and optimising human performance.
Athletes and players are no different. Inducing a daily training response means you are in a constant state of ebb and flow between inflammation and recovery.

I'm going to save the injury chapter for the next blog. It's detailed so a lot of information to digest.
Matt